Cava Baja Houses
Madrid, Spain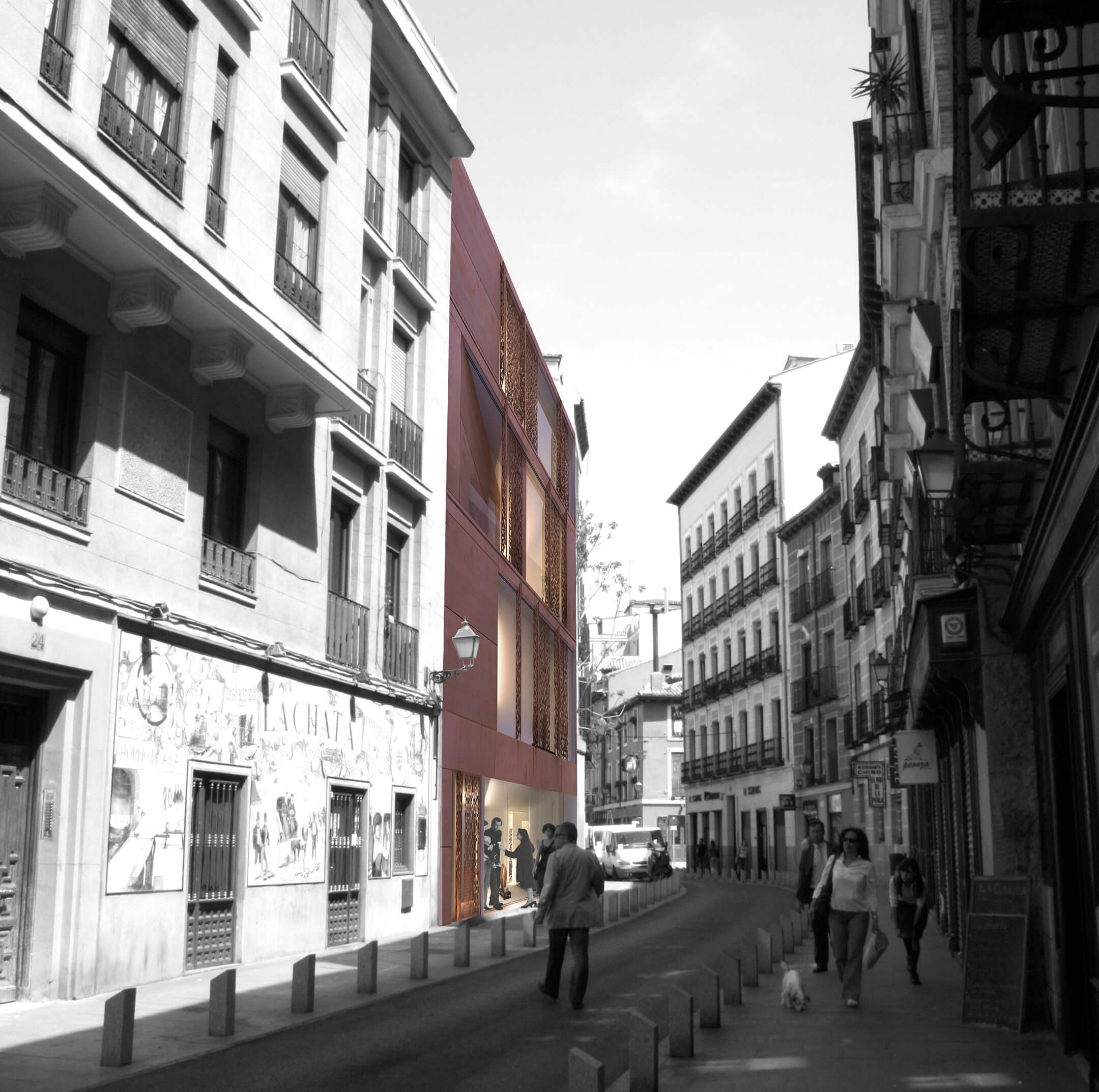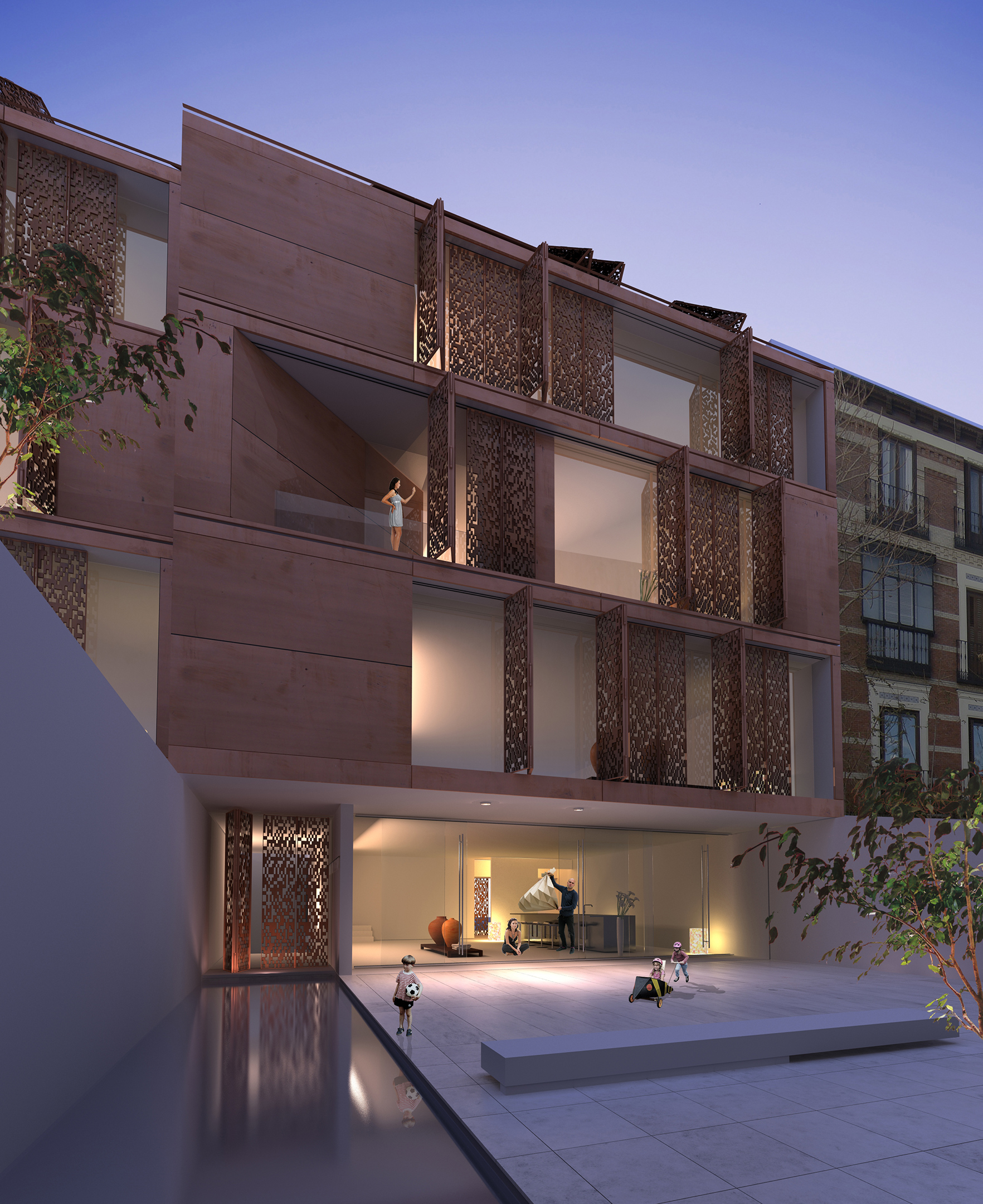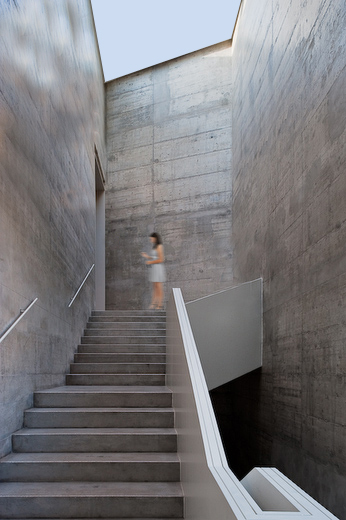 Cava Baja Houses
Madrid, Spain
The project is located along Cava Baja which is in one of the more notable old streets in Madrid. This is within the "Barrio" of La Latina which has a blend of Baroque and 18th Century classical architecture. Due to the local planning policy in Madrid this contemporary intervention to the site attempts to respect the existing fabric and proportions of the architecture surrounding it. The 5 storey building is for commercial use at street level and residential use above.
Due to the client requesting 2 residential houses instead of the more traditional layout of one apartment floor on top of another the question that needed to be addressed was how circulation could be more efficiently defined. The conceptual studies identified that to completely "lift" the ground plane and create a new level at the first floor (that extended to the site boundary) would unify the "heart" of the home. The first floor level would have an extensive open plan through to the rear of the site. This formed two clear functional spaces that satisfied the local legislation and enhanced the brief. The ground floor could now fully function as a commercial (restaurant) space and Level 1 could now become the "elevated garden" and reception to the residential properties. The "elevated garden" space has a physical divide by introduction a communal pool that is offset along the central axis of the site providing outdoor spaces for both residencies either side.
The site and spatial analysis determined the plot should be divided into 4 domains:
A commercial aspect to the ground floor plane;
Communal residential reception/landscape/garden and pool;
Residential property A;
Residential property B.
The concept composed a spatial diagram that allowed living and entertaining to be accommodated efficiently over two storeys with open plan kitchen and dining areas overlooking the "elevated gardens." This reduces vertical circulation significantly compared to the more traditional neighbouring properties and provides a large open plan that integrates with the gardens and landscape doubling the usable floor area. This provides additional semi-external space that benefits from the warm Madrid climate for the majority of the year.
The overall mass is almost cube like with a distorted East facing party wall which cuts back into the site generating an elbow in plan. The "cubic" volume has been split to create the two dwellings. The 5 storey scheme has a perforated facade/roof that envelopes the displaced internal volumes that respond to the domestic necessity. The roof area allows the perforated facade envelope to fold over the building and create a solar canopy which shades the roof terrace. This provides an external cool/breezy space for relaxing and taking in the panoramic views of La Latina.
The opening up of the communal volumes and roof terrace allows ventilation to occur laterally therefore cooling and avoiding a thermal mass at ground level rising to the accommodation above. The design strategy creates a sustainable building that passively cools and reduces the demand for excessive mechanical plant.
Design Team
Bryan Crossland, Jack Howell, Juan Martínez, Russel Murrell, Maria Pérez, Daniel Statham